For an authentic Alaskan experience of hunting, fishing, or bird watching, envision your upcoming stay at Bearfoot Inn Alaska, nestled in the heart of Cold Bay!
Full Service Hotel in Cold Bay, AK
Experience the true Alaskan wilderness at Bearfoot Inn, a full-service hotel nestled in the breathtaking landscapes of Cold Bay, Alaska. With our unique location approximately 634 miles southwest of Anchorage, we offer a haven of comfort and convenience in this remote region. Cold Bay serves as a vital hub for surrounding villages, and as the gateway to the awe-inspiring Izembek National Wildlife Refuge. So whether you're an adventure seeker, a nature enthusiast, or simply looking for a peaceful retreat, Bearfoot Inn is the perfect destination for you.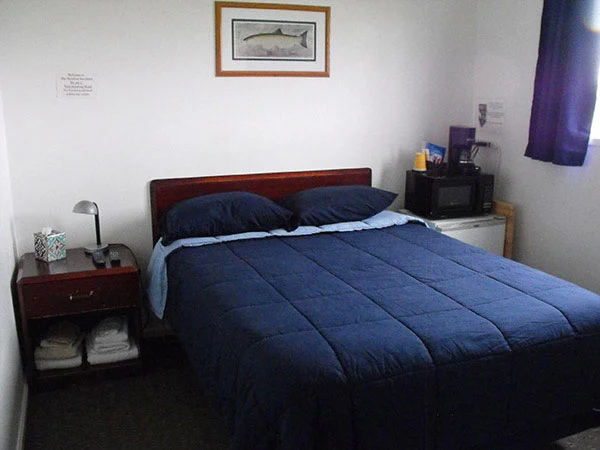 Unparalleled Accommodations
at our Full-Service Hotel
At Bearfoot Inn, we pride ourselves on providing exceptional accommodations that make you feel right at home in the Alaskan wilderness. That's why the Bearfoot Inn Hotel provides 5 standard rooms and 2 deluxe rooms within our main building. Our standard room consists of a double bed, refrigerator, microwave, coffee pot and amenities, and cable TV, while the deluxe room consists of all of that plus a private bath. In addition, our on-site Bunkhouse provides 6 rooms each with 2 single beds to hold 12, a full kitchen with appliances, a laundry facility, and restroom facility with all amenities provided, in addition to cable TV, phone, and lounging area.
Convenience at Your Fingertips –
Grocery Store and Liquor Selection
As the only full-service hotel in Cold Bay, Bearfoot Inn also offers a convenient grocery store and a well-stocked liquor selection. We understand the challenges of living in a remote area, and our aim is to provide our guests with everything they need for a comfortable stay. Whether you're looking to stock up on groceries for your outdoor adventures or unwind with a drink at our bar, our comprehensive selection ensures that you'll find exactly what you're looking for. Our grocery store offers a variety of fresh produce, staple foods, and household essentials, while our liquor store boasts an extensive collection of beers, wines, and spirits. Restock your supplies or indulge in a well-deserved treat, all without leaving the comfort of our hotel.
Explore the Spectacular Izembek National Wildlife Refuge
---
As the home of the Izembek National Wildlife Refuge, Cold Bay offers an unparalleled opportunity to witness the wonders of Alaska's natural beauty. Spanning over 300,000 acres, the refuge is a sanctuary for a wide variety of wildlife and serves as an important breeding ground for migratory birds. Immerse yourself in the rugged landscapes and experience the thrill of spotting rare bird species, such as the Emperor Goose and the Steller's Eider. And explore the refuge's diverse ecosystems, including expansive lagoons, mountain peaks, and vast tundra. With our convenient location, Bearfoot Inn is the perfect base for embarking on unforgettable outdoor adventures in the heart of the Alaskan wilderness.
Immerse Yourself in Warm Hospitality at Bearfoot Inn
In addition to our exceptional amenities and prime location, our warm and welcoming staff is dedicated to providing you with the best possible experience during your stay at Bearfoot Inn. From offering insider tips on the best hiking trails to arranging transportation for your excursions, we're committed to ensuring that your time in Cold Bay is truly memorable. Whether you're seeking tranquility, adventure, or a blend of both, we're here to make it happen.
Book Your Stay at Bearfoot Inn,
your Home Away from Home
For an unforgettable Alaskan experience, look no further than Bearfoot Inn Alaska Grocery & Liquor. With our convenient location, full-service hotel amenities, and the spectacular sights of the Izembek National Wildlife Refuge right at your doorstep, we offer the perfect blend of comfort and adventure. So escape the ordinary and immerse yourself in the natural wonders of Cold Bay, Alaska. Book your stay with us today and discover the magic of the Alaskan wilderness at Bearfoot Inn.
Proudly Serving Cold Bay, Alaska.